SUN POWER
Federal Solar Tax Credit is Still Available for a Limited Time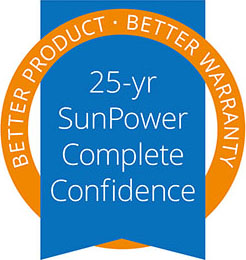 Find Out How Much You Could Be Saving With a Free Solar Estimate
Why Go Solar Now?
2020 is the only year that you can take advantage of a Federal Solar tax credit.
Join over 2 million Americans who have installed solar on their homes2
Solar panels increase the resale value of a home by an average of 4.1%3
Why Choose SunPower?
SunPower provides cutting-edge solar systems, custom financing and advanced sustainability practices. A fully-integrated approach to solar system design, battery storage and energy monitoring software has made SunPower an industry leader in solar solutions. With our solar energy products you can rest assured you have invested in efficiency, quality and longevity.
A COMPLETE SYSTEM
The SunPower® Equinox™ system is the exclusive complete home solar system designed and engineered by a single company. Our systems utilize the highest efficiency panels available****, energy monitoring software and industry leading science and design to ensure that every component is constructed to work together seamlessly.
SUPERIOR TECHNOLOGY
Our Maxeon® solar cells use proprietary technology to create solar panels that generate 55% more energy over the span of 25 years when compared to a conventional panel***. At SunPower®, each solar panel is designed and manufactured to comply with stringent performance standards for performance and reliability.
Please be sure to notify your SunPower installation contractor that you may qualify for this offer during your free solar evaluation. Rebate is subject to the terms and conditions listed below. Rebate Terms: Before rebate costs will vary, depending on system specifications. Cannot be combined with other offers. Only available for new, first-time SunPower customers, excluding customers who purchase a new home with solar installed. Rebate may not be applied to quotes on existing SunPower proposals or past purchases. Rebate form must be completed and returned to SunPower within 90 days of the final invoice date. Late submissions and those submitted without proper documentation and signatures will be subject to delay or cancellation. Allow 6-8 weeks for processing. Any donations will be processed with the rebate.
Invest With Confidence
Industry-leading warranty, all from one company
* SunPower 400 W, 22.6% efficient, compared to a Conventional Panel on same-sized arrays (280 W multi, 17% efficient, approx. 1.64 m²), 8% more energy per watt (based on PVSim runs for avg US climate), 0.5%/yr slower degradation rate (Jordan, et. al. Robust PV Degradation Methodology and Application. PVSC 2018). ** Jordan, et. al. Robust PV Degradation Methodology and Application. PVSC 2018 *** 10 years on monitoring hardware only. ****: Based on search of datasheet values from websites of top 20 manufacturers per IHS, as of January 2019.© 2020 SunPower Corporation. All Rights Reserved. SUNPOWER and the SUNPOWER logo are registered trademarks in the U.S. and other countries as well. All other logos and trademarks are properties of their respective owners.
†Incentives, rebates and tax credits vary and are subject to change. SunPower does not warrant, guarantee or otherwise advise its partners or customers about specific tax outcomes. Consult your tax advisor regarding the solar tax credit and how it applies to your specific circumstances. Please visit the dsireusa.org website for detailed solar policy information.